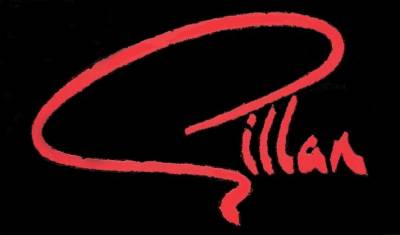 Ian Gillan has been one of my favorite vocalists from his performances with Deep Purple and his short stint with Black Sabbath alone. However, after leaving Purple he went through the motions eventually forming the Ian Gillan band playing jazz/fusion in the mid to late seventies and finally forming a super group of sorts simply titled "Gillan" in 1978. Gillan's classic lineup consisted of underrated guitar player Bernie Torme, Bass juggernaut John McCoy, Colin Towns on keys and Mick Underwood on drums. The band with a slightly different lineup recorded an album that was not widely available simply known as "The Japanese Album" in 1979 before a slight lineup shift and songs being reworked finally ending up on the first classic album "Mr. Universe"
"Mr. Universe" was NWOBHM before it even exploded. This album took what was good about about the sound Gillan had in Purple and gave it more balls than ever. While the album isn't quite "metal" per say, it is great British Hard Rock. Opening with the brooding and epic keyboard instrumental "Second Sight", the album launches into its proper first track with the neck breaking "Secret of the Dance" which is incredibly fast and tight and shows how gritty Ians vocals can be but also how melodic they are especially in the chorus. The album continues with the catchy mid paced "She Tears Me Down" and then another fast tune titled "Roller" which is another go for the throat tune. The title track is incredibly epic and builds quite well with some impressive soloing from Torme. :Vengeance" is a good almost boogie rock tune with a lot more blues influence to it as well as "Puget Sound" and "Dead Of Night". Up next is possibly my all time favorite Gillan track "Message In A Bottle" which is another breakneck tune but the real highlights are the ways Ian Gillan spit out his lyrics and Mccoys commanding bass really shines here and shows how underrated his thick tight playing is. Ending the album is the ballad like "Street Fighting Man" which an equally epic song and another favorite of mine. Overall this album could just be called Gillans greatest hits because it is that good definitely a great start for the band and personally my favorite album by them.
Perhaps Gillan hit their peak was their second record "Glory Road". After gaining a huge following in the growing hard rock revival in the turn of 1980, the band quickly released this album which also included a "for Gillan fans only" mini album featuring some jam tracks which was a cool inclusion. However, this album like its predecessor is pure grade A British Hard Rock but definitely shows a bit more of a metal side to the band. This is definitely apparent with opener "Unchain Your Brain" which is a no nonsense fast rocker. Torme's guitar feels a bit sharper on this record and the production is slightly slicker and my favorite track on the album "Are You Sure" features some awesome guitar and keyboard riffs blending its definitely very well written. There are so many great tracks like the epic "On The Rocks", the classic "No Easy Way" and even the super Bluesy "If You Believe Me" which solidify this album being another classic. The album thrived in the more underground but unfortunately didn't break in America (shocker) but that didn't stop the Gillan train from rolling on.
While the album cover is a bit  aliening, the album is anything but. This could very well be the most visceral album Gillan did. The title track opens up being a great fist pumping hard rocker that is equal heavy and catchy. "Night Ride Out of Phoenix" is a badass mid paced bluesy rocker as well. "(The Ballad Of) The Lucitania Express" is such a fast tune that almost sounds impossible to play the riff is just so unbelievably fast and really makes this tune because its crazy fast but still very precise at being what it wants to be. "New Orleans" is a great cover that feels equal parts Hard Rock and 50's rock n roll. There are other great tunes like "Bite The Bullet" and "Sacre Bleu" but the best song has to be the dryly comedic "No Laughing In Heaven" with such entertaining lyrics and a great bumpy rhythm that makes it such a blast to listen to. Unfortunately this would be the last album Torme would be a part of but equal talent in the for of former White Spirit guitarist Janick Gers would join for the bands final recordings.
Gillans fifth album would be an interesting one as it would be a double album splitting studio tracks and the other being a collection of well recorded live tracks which is a real treat. The studio tracks include the terrific melodic yet rocking "Reckless" as well as the grooving "I'll Rip Your Spine Out" and the terrific foot stomping "Hadely Bop Bop". The band is definitely in top form here and the studio side definitely feels the most polished the band has sounded yet with more melodic touches on the songs as well. However, it still feels incredibly Gillan and Gers more than holds his own. He isn't as much as a gung ho player as much as Bernie but he is solid and his solo's are very precise. The live side shows recordings from the 81 reading festival and one track with Torme performing from the Rainbow theater. Definitely a well worth it package for Gillan fans.
Magic was released in 1982 and ended Gillan's discography pretty much perfectly. The band sounds the best on record than they ever have. Now while Magic is not my favorite it is still a damn good and should have launched the band higher than they achieved. Opening with the gritty and fast "Whats The Matter" right into the groovy "Bluesy Blue Sea" which both alone make the album worth a purchase, the album stays consistent with mid paced and fast rockers all the way through. "Caught In A Trap" and "Your So Right" are perfect pop rock songs and are the closest the band goes to that kind of sound and they pull it off perfectly. However the main event is the epic progressive ripper "Demon Driver" which has a lot of twists and turns and always keeps your attention and Ian's almost creepy like vocals sell the song especially the intro amazingly. The album ends with a badass cover of "Living For The City" by Stevie Wonder and a short reprise of "Demon Driver" as Gillan set off into the sun.
Ian Gillan had to get nodes removed from his vocal chords shortly after the end of the tour and dissolved the band at this point from inner tensions due to money as well as other difficulties. Gillan himself shortly joined Black Sabbath and then came back to the reformation of the Mk II lineup of Purple while some members such as McCoy and Torme stuck to doing projects here and there while Gers became part of Iron Maiden nearly ten years afterwards. While we will most likely never see a Gillan reunion especially after Torme's passing, these albums represent a band full of excellent musicians that need to be rediscovered for their sheer staying power and "magic" that each release holds still. Gillan for me will always be the one band when everyone talks about Rainbow or Whitesnake, as the best Post Purple project by any member of that band.